and
finally get to meet and hang out with Dawn! How cool is that?? ^_^ *GLEE* I'll be going the 18th through the 21st...only three days, but I'm gonna pack a lot in! :D
Anyways, I
have
been getting some art done, though...here's some wips of what I'm currently working on....
Here is a partly painted companion piece to my Spring Cameo...Summer Cameo is about half-way done. I have to put her aside for the moment to work on Namaste and the ACEO, but I will pick her up again next week.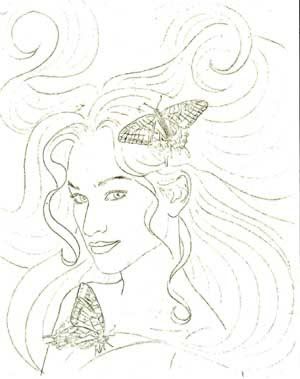 Here's the sketch of my sister piece to Beauty of Spring...Sunkissed actually has the first couple of washes on her, but I didn't feel like scanning her tonight. *lol* She's about one-quarter done, and I will finish her up next week after Summer Cameo.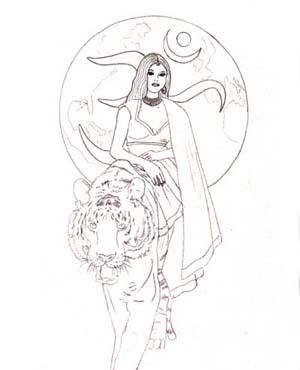 Here is the painting I have to finish tomorrow. I know the line work doesn't look like much, because the background will be celestial, and the tiger is walking on a path of stars, none of which I'm actually drawing...that all comes in when I paint. But this will be my Big Cat entry for the Fantasy Artists Care show at our group at Care2.com. I originally intended for there just to be a tiger, but this is one of those paintings that totally got away from me...*lol*
*phew* I've got two more paintings in my head that I hope I will be able to paint in the next two weeks...Lightning Strike (a darker, gothic piece) and a mermaid painting. If I can actually keep myself on schedule, I'll be totally happy! *grin* But for now, it's bedtime!
Well, we're midway through my first week doing the full-time artist gig, and I gotta admit I haven't been working full time on my art...*wry grin* I got sidetracked by a couple of projects, one of which is planning a trip to Las Vegas the middle of April. I decided that before I began another job, I wanted to go somewhere fun that I haven't been before. Vegas has always been on my list of places to go and as a bonus, Dawn n' family were going to be there the week of April 17th. So hey...I can have fun in Vegas
Current Mood:

chipper